Pembroke Welsh Corgis
If you are looking for an excellent Pembroke Welsh Corgi puppy you have come to the right place! Please contact us and we will be happy to answer any questions you might have and help you find the perfect little Corgi!
-Jeremy and Andrea Gerber
Home Page Pic: Rolex, Nevada and Holly are a lovely trio!
We are a young family blessed to live on a 23 acre hobby farm in the country between Thamesville and Bothwell ON. You are more than welcome to come and visit us! Depending on when you come you might see fresh tomatoes growing on our certified organic farm, or, if you visit us in the spring, you will see happy chickens eating in their pasture. Listen to the sound of the train as it runs through the far edge of our farm. And last but not least, get down on all fours and play with the puppies frolicking in the lawn! We are passionate about purebred Corgis and doing what we do is a dream come true!
Mission statement: Our commitment is to improve the Pembroke Welsh Corgi breed through diligent research and ethical breeding. Therefore, every one of our customers will receive a happy, healthy puppy with excellent conformation and temperament.
November has been exceptionally warm this year and the corgis are loving it! These puppies have just reached 4 weeks and couldn't be happier to have the chance to play outside! 
The picture below is taken along the edge of our property. This train track is the inspiration for our name, Rail Edge.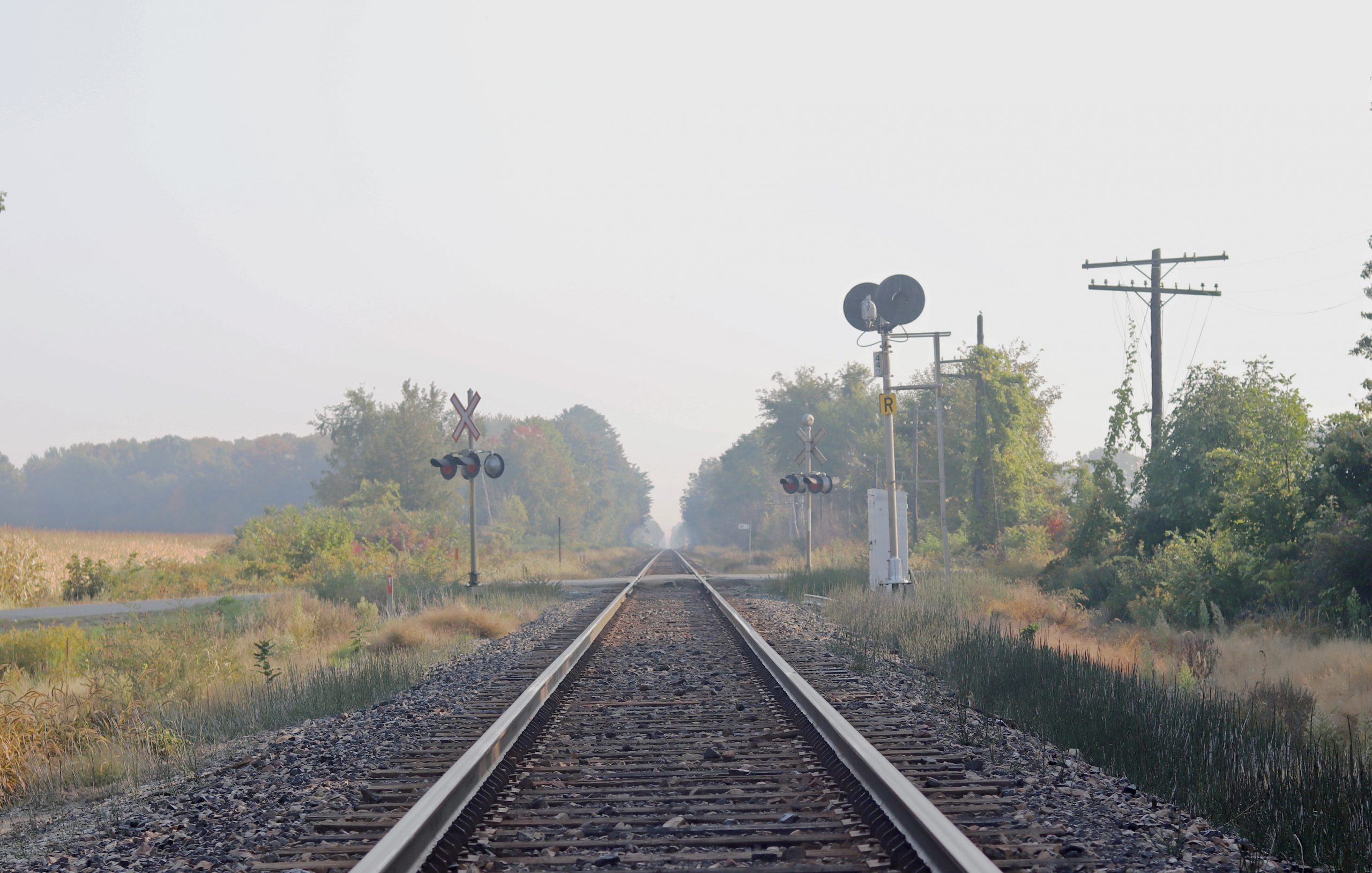 Our dogs love to run around and play together! Our European girls are especially good friends and we just love these happy faces and tails!
Your puppy will come to you with:
Extensive puppy development programs including:
2-year health guarantee, including agreement to spay or neuter dog within one year
Vet check, 1'st vaccines, dewormed, tail docked as per breed standard, dew claws removed
Certificate of registration with the Canadian Kennel Club. (this will come in a few months)
Exercise Guidelines Booklet by Jane Messineo Lindquist / Puppy Culture
Microchipped and microchip registered in your name
Support and advice anytime
Weekly pupdates with pictures and info from the time you reserve until the puppy goes home to you
Puppy starter pack sent home with every puppy includes:

Puppies' collar
Tube (30-day supply) of Companion Choice pre/pro-biotic paste
Approx 1 week supply of TLC puppy food
Soft toy with littermate's and mom's scent
Pkg of dried liver training treats
Pkg of Clorox wet wipes